Heartwood Summer Festival – 7 July, 2018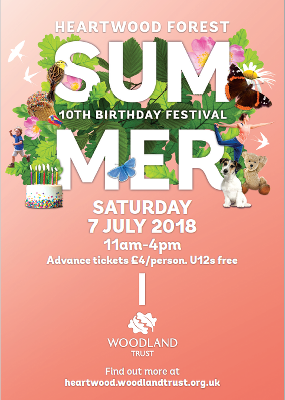 Join us at this beautiful woodland creation site in the village of Sandridge, near St. Albans in Hertfordshire, for the annual Heartwood Summer Festival.

Come along and enjoy all the fun activities with crafts and stalls for all ages. This year we'll be celebrating Heartwood Forest's 10th birthday!
Tree-lax and unwind…
Connect with nature through our inspiring programme of woodland yoga and meditation. Join expert local teachers and explore a variety of sessions, whatever your age or experience level. Chill out in our Zen Den, chat with wellbeing practitioners and more!
Yoga and meditation timetable:
Asana Area
11.30am-12noon Family Yoga
12.30pm-1pm Teen Yoga
2pm-2.30pm Kids Yoga
3pm-3.30pm Restorative Yoga
Mindfulness Yurt
12noon-12.30pm Creative mindfulness
1pm-1.30pm Kid friendly
2.30pm-3pm Teen friendly
3.30pm-4pm Yoga Nidra
Discover your wild side…
Enter our wildlife zone and prepare to be amazed at the dazzling array of plants and animals that live and grow at Heartwood Forest!
Discover the baffling world of bats, become a bone detective and investigate what owls like to eat for lunch, and make a mini-beast mansion to take home. Plus wildlife art, guided walks and much more!
Explore why 'wood is good'
Uncover some of the uses of wood that make trees such an incredible and important resource. Watch and chat to expert craftspeople as they demonstrate a variety of age-old professions including broom-making, hurdles and basket making. Have a go at willow weaving, try your hand at some of the techniques involved with hedge laying, or test out shingle-making! Activities are running all day.
Programme of main events
11am – event opening
12noon – Teddy Bears' Picnic (prize for best dressed Ted – birthday party theme)
Bring your best dressed ted along with you to our family-friendly teddy bears' picnic. Unsurprisingly, this year we're going for a party outfit theme and there will be prizes for the teddy bears' that are dressed to impress the most!
1pm – Bake-off winners announced (cakes to be in the tent ready for judging by 12.30)
Don your apron and test out your culinary skills! Judging will be at 1pm – bring your cakes to the bake-off tent by 12.30. This year's theme is 'woodland party' and you can either bake cupcakes or one large sponge cake. There'll be prizes for both under 16s and over 16s categories.
2pm – Dog show (registration from start of event onwards)
Bring your four-legged friends along to our fun and informal dog show. Categories will include best trick, waggiest tail, best veteran, the doggie who looks most like their owner, and more! Registration will be open from 11am.
Join us on a guided walk to explore more of heartwood's wildlife:
11.30–12.30 – Guided walk, butterflies
1–2pm – Guided walk, butterflies

2-4pm – Guided walk, plants and trees of Heartwood
3.45pm – Doggy dash
If you've brought you're pooch along with you, end the festival with a just-for-fun doggy dash. Who will Heartwood's fastest dog of 2018 be?
4pm – event closes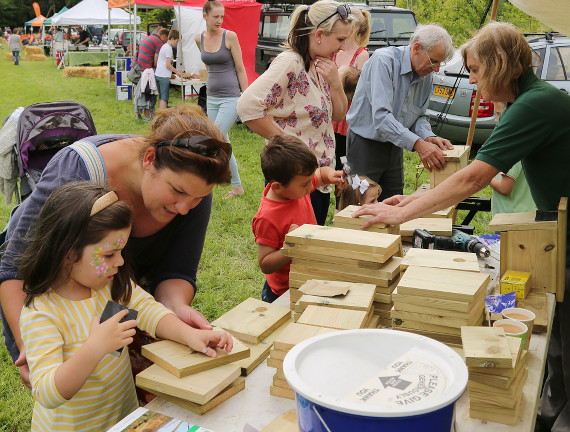 Event details
A range of delicious food and drink will be for sale on the day.
The ground may be muddy and uneven in places, so we recommend boots or sturdy footwear.
Please park in the main car park, situated off the B651 – the main road that runs from Sandridge to Wheathampstead (AL4 9DQ).

For more information please call 01476 581111

• Dogs on leads welcome
• Under 16s must be accompanied by an adult
• Tickets in advance, £4/person, under 12s free
• On-the-day tickets, £6/person, under 12s free
• Advance booking recommended!

To book please visit our events page.